See on Scoop.it – Scouting Adventures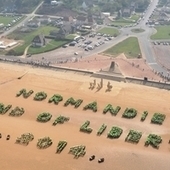 The beaches at Normandy, where allied forces made landfall on D-Day, are one of the most historically significant places in the world. Yet the D-Day…
Dr. Jose Lepervanche Net's insight:
Would you consider signing a petition to help make the D-Day Landing Beaches in Normandy, France a World Heritage Site? The Boy Scouts of America's Transatlantic Council is leading an effort to protect this historic site in tribute to the greatest generation who fought to give us freedoms that we enjoy.
Please read the information below and if you are so inclined sign the electronic petition and then forward and encourage others to do as well. Thanks for helping.
"We in the BSA now all have a unique opportunity, and a responsibility, to ensure that our Greatest Generation is honored by future generations. The French government has named the Transatlantic Boy Scout Council as official Custodians of the D-Day landing beaches in Normandy. 2014 marks the 70th anniversary of D-Day, and the official celebrations kick off with a Transatlantic Council Camporee on Omaha Beach on 25-27 April. Entire contingents and individual Scout families are travelling from the US to attend.
We are leading a petition drive to convince UNESCO to grant World Heritage Site status to the D-Day landing beaches. The D-Day beaches are not protected from development, and they are under threat. This will be the first time that UNESCO considers a public petition to grant World Heritage Site status. We will present the petition to them on Omaha Beach on April 26, so we have only a short time to energize and motivate thousands of youth, volunteers, family and friends to sign the petition, either on paper or electronically. Please help send out the electronic petition or ask people to download the paper one, and let's gather as many signatures as possible.
https://www.change.org/petitions/unesco-save-the-d-day-beaches-make-them-a-world-heritage-site
Thank you for your support. We can all make a difference, and continue to play an important role in preserving our history.
See on www.change.org